Financing Options
Houston Diamond Outlet is committed to offer fine quality diamonds and engagement rings at affordable prices and we accept all major credit cards. We  can even split your purchase amount between 2 or more cards for your convenience.
Interest Free Financing
We do offer interest free financing through Synchrony bank but, as of now, it is available for in store purchases only.  This is an large outside financial institution which we have full confidence in helping our customers get the quality merchandise they desire on terms they can meet. It is easy and free to apply. If you don't have credit you can even apply with a co-signer.
We apply for an amount based on your purchase or amount needed. You do not need to have a down payment, we can apply for the entire purchase amount.  You may be approved for the entire amount applied for or a portion of that.  Whatever we qualify for can be used towards the purchase for the promotional period we will determine at time of purchase.
Promotional Periods
*3 months
*6 months
*12 months
*up to 18 months at certain times of the year. (Additional costs may apply.)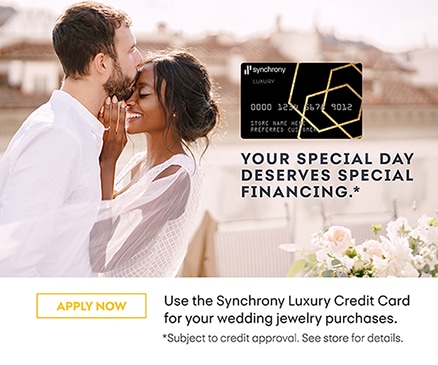 How to apply
In store we log into our merchant account and you fill out a short 1 page application.  All that is required is a drivers license and a credit card for a second for of ID. The application takes no more than 5 minutes to fill out, we hit enter and usually get a response within seconds.
Once approved you will be issued a card in the mail which you can use at Houston Diamond Outlet to make this AND future purchases just like a regular credit card.
Can I apply Online?
As of now it is not possible to apply online because we need to log into our merchant account to access the application. However, we can email you the form for you to fill out. Just email it back and we can apply in store for you. You will need to bring drivers license and a credit card for second form of ID at time or purchase.
If you have any questions regarding financing or the purchase process feel free to call, email, chat or Facebook us and one of our friendly team members will help you out.
Call today and get approved and purchase the diamond or engagement ring of your dreams!
Houston Diamond Outlet
6222 Richmond Ave #255
Houston, Tx 77057
713.338.2434
Legal Stuff
*Minimum purchase of $999.  Applies to purchases made on a Synchrony consumer credit card account. Under the promotion, no finance charges will be assessed on the promotional purchase as long as: (1) you pay the promo purchase amount in full within the "promo period" and (2) you pay, when due, the minimum monthly payment on your account, which includes a required minimum monthly payment on the promo purchase. If you fail to satisfy either of the above conditions, all special promo terms will be terminated and finance charges will be assessed on the promo purchase.  Offer is subject to credit approval by Synchrony Bank. Other terms and restrictions apply.
Houston Diamond Outlet.com will keep all your information confidential and will not be shared with any company except for the purpose of obtaining your approval through Synchrony Bank.
Houston Diamond Outlet
6222 Richmond Ave #255
Houston, Tx 77057
customer service
713.338.2434